2012 was the year of the boy bands, and 2013 has seen them get stronger and stronger. Here at Ultimate Lists, we wanted to see which boy band was really the biggest in Britain and end that long-running fight.
5. Lawson
Lawson are the new boys on the block, with their breakout debut album, Chapman Square, being released in October 2012. Their original breakthrough came after being support act for the Wanted and have become famous in their own right with the singles 'When She Was Mine'.  These boys are one to watch in the future and we can't wait to see if their catchy tunes can rival the big boys.
Best Song: Learn to Love Again
4. JLS
They may be splitting up later this year but JLS still command a huge fanbase who revere their dance floor, R&B tunes. Their journey began with an X Factor audition and after five hugely successful years where they have sold over 10 million records worldwide and earned millions each, it's coming to an end. We've loved their reign and their dedication to charities has inspired us.
Best Song: Beat Again
3. McFly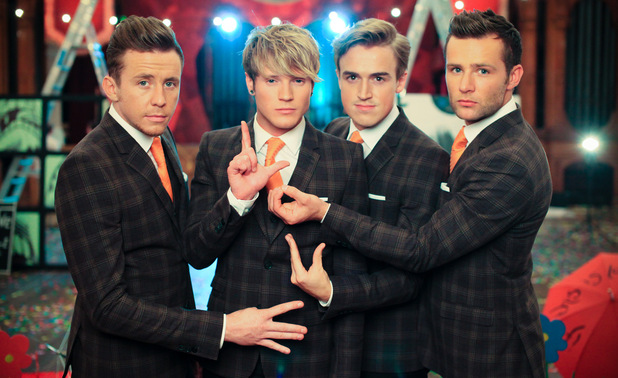 Not quite a boy band, but we reckon they still deserve to be in this section. They have also sold over 10 million records worldwide, and no one can deny their talent.  From stealing some of The Beatles' records to going double platinum with their first album, they're still going over ten years later after they first formed, rolling out great tunes like 'Love is Easy'. However, we reckon they just don't have the same numbers of crazily dedicated fans to rival The Wanted and One Direction.
Best Song: All About You
2. The Wanted
From the Twitter fights to the chart battles, The Wanted, the more edgy version of One Direction,  are close, but just not quite there. They are arguably more interactive with their fans and have an equally dedicated fanbase of admiring girls, and the similarities between the two are almost scary. However, The Wanted just can't boast the same success as One Direction and although some of their songs are massive tunes, we think the album doesn't quite match One Direction's.
Best Song: Glad You Came
1. One Direction
Five good-looking boys from Britain, teamed with adorable personalities and decent voices, and success was inevitable. One Direction have stormed to the front of the boy band market, selling 14 million singles and over 8 million albums whilst cracking the US and undertaking a world tour, as well as releasing a feature film later this year. The statistics don't lie and One Direction are undoubtedly the biggest boy band in the world right now. One Direction need to stay aware though, because The Wanted are not too far behind…
Best Song: What Makes You Beautiful
Do you agree or disagree? Any glaring omissions? Please comment below or share the article -  thank you! Or vote on our poll so we can see the true views!